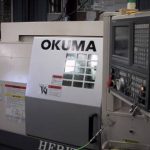 Our turning department consists of both gang style and turret style fixed headstock lathes.
For smaller parts and assemblies under 32MM, we utilize the high speed Akebono or CMS lathes. For parts beyond 38MM, we have the capability to process bar up to 50MM in one of our Okuma lathes.
The turning department can also process parts and assemblies after secondary operations such as heat treat, brazing, soldering, or welding, utilizing collet chucks, three jaw chucks, or fixture plate tooling.