Our quality assurance department is driven by a single guiding principle. "Right the first time, right every time". We are constantly training, and continually improving our processes so that variances are eliminated. Our ISO mandate dictates that our QA team manage the quality of our raw materials, products and components, outside services and inspection processes. Swissline Precision LLC is both ISO 9001:2015 and ISO 13485:2016 registered.
Technologies Employed
Oasis Elite- Optical Automatic Smart Inspection System
Our Oasis Elite is a full-featured, non-contact video profile measurement and inspection system that allows users to measure multiple dimensions on a part simultaneously and instantly. The measurements show up in a familiar, easy-to-read drawing dimensioning format and are saved in the Oasis for inspection archival or for built-in quality control reporting.
The Oasis works by utilizing an LED light source to collimate precise rays through a series of specially designed diffusers and lenses that shine across the part to be inspected. That image is then captured by a very specific telecentric optical lens, which results in a perfect monochrome profile of the inspected part. The part profile is then digitally captured with a specially designed camera system and transferred to the custom on-board computer where the software does the rest. The image is analyzed and measurement data is displayed on-screen.
OGP Optical Measurement System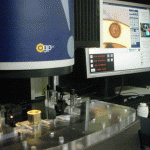 SmartScope® offers precision dimensional metrology with minimal measurement uncertainty. Built with its patented "elevating bridge" design with ample 300x300x250 mm measuring volume, it is still small enough to fit on a benchtop.
SmartScope offers superior optical imaging performance with the functionality of a continuously variable patented telecentric TeleStar® zoom lens. Not only does it provide superb optics for measuring the most critical and demanding parts, it also offers multisensor capabilities.
Specifically catered towards the medical industry, the Smartscope offers multisensor metrology software to turn measurement sequences into automatic routines which can be reviewed for product and process decisions.
SmartScope Specialist is the medical device and instrument measurement system.
Stereo Microscope Inspection
For parts that require inspection under magnification our talented team employs the use of stereo microscopes throughout the manufacturing area. Intricate parts that require absolutely burr free geometry are meticulously deburred and inspected 100% by our talented team.
Image Dimension Measurement System
We are constantly investing in the newest technology to improve our productivity and reduce our costs. The Keyence 6500 image system is a completely new concept of measuring the dimension of an entire target simultaneously by eliminating the X/Y stage. Place-and-press measurement greatly improves the speed and efficiency of measurement inspections, eliminates operator error, and provides data collection instantaneously.