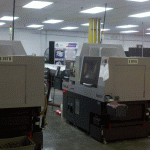 Our Swiss Capability ranges from .5mm to 38mm in bar stock capacity.
Whether your parts require basic Swiss production or advanced capabilities like inclined milling, sculpting, micro drilling, micro gun drilling, conventional tapping or thread whirling, we have the machines to fulfill your part requirements.
We match our various machine technologies to your production needs offering the lowest unit cost.
Multiple machines within the different platforms allow quick turnaround on prototype or production runs.